Meet the MAKEEN Energy LPG filling product line
The next step in LPG filling is here
All the experience and know-how, merged into one. The MAKEEN Energy product line for filling and maintenance of LPG cylinders combines the best of both Kosan Crisplant and Siraga technology with a range of added benefits. It is the next generation choice for LPG fillers everywhere.
Benefits

Collect usable data about everything in your operation!
The best uptime you have ever had
New levels of performance and capacity
Smooth production planning
Protection from damage to machine parts
Easy and fast repair
Superior weighing accuracy
Longer lifetime of controller unit
One controller unit for all functions – and the same spare part
Connected like never before
MAKEEN Energy equipment establishes new industry standards for cloud connectivity, data analysis and remote monitoring. With the addition of sensors that collect important data about the system's performance, you can spot potentials for improvement as well as predict the need for maintenance or risks of a breakdown. To see the future, so to speak.
Bringing the LPG filling industry into the era of Industry 4.0 has been on our agenda for years, and with this product line, we have made a set of equipment that is specifically designed to let you collect and harness the power of your data!
Shock absorption for minimal damage
We have redesigned the base of our filling machines to be more flexible, providing much higher safety against shocks and bumps. The stability offered by this shock absorption system prevents damage to machines and components, resulting in high uptime and less money spent on spare parts and repair.
New heights of digitalisation
With this generation of filling machines, we are pushing LPG filling further into the digital world. Equipped with a digital load cell instead of the previous analogue cells, the machines achieve the market's best weighing accuracy, even at high temperatures up to 50 C°. What this means is that you have fewer underfilled or overfilled cylinders that you need to handle. In addition, the new generation of machines offer the possibility of easy communication with other external devices, such as RFID or code readers.
Download our flyer
If you already own Kosan Crisplant or Siraga machines
What about my existing Kosan Crisplant/Siraga equipment – will you still support it?
Of course! You will still be able to receive the same service, support, and spare parts as before.
Please contact us for more information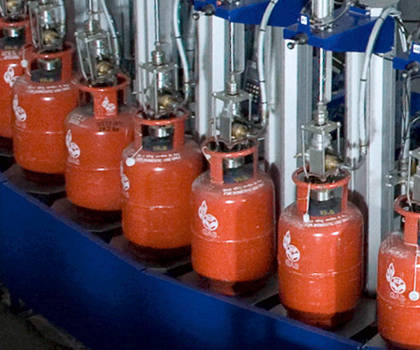 Kosan Crisplant
For many decades, Kosan Crisplant has been a market-leading manufacturer and supplier of equipment for the filling, handling and maintenance of LPG cylinders. As part of our gas solution division, Kosan Crisplant offers solutions of all scales - from single machines to large and complex systems.
Visit Kosan Crisplant's website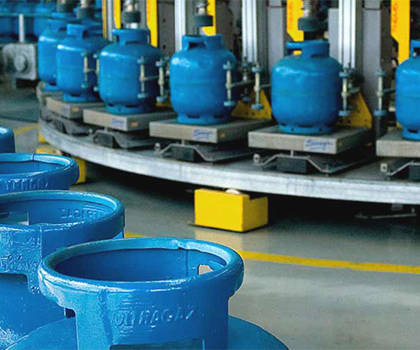 Siraga
Like Kosan Crisplant, Siraga has been a key player in the LPG handling business for years. Established in the 1930's, and now a part of MAKEEN Energy, Siraga delivers a wide array of flexible, high-quality products and solutions to customers around the world.
Visit Siraga's website