Case: Various customers, India
Optimized production through preventive maintenance
Customers
Hindustan petroleum Corporation Limited (HPCL)
Bharat Petroleum Corporation Limited (BPCL)
Indian Oil Corporation Limited (IOCL)
Oil India Limited
Indian Oil Tanking Limited
The customer's challenge
Equipment not utilized optimally
Level of maintenance uneven across plants
Knowledge loss due personnel transfers
Our solution
Annual Maintenance Contracts (AMCs) with a focus on preventive maintenance
The outcome
Higher uptime
Optimized production
Overall plant efficiency improved
Extended lifetime of equipment
Slim spare parts inventory due to efficient purchase and handling
Guaranteed availability of critical spare parts
Safer product - improved consumer safety
Managerial resources released for other tasks
Higher staff skill level through training programs
Less dependence on key personnel 
Scope of supply
2-4 annual two-day visits per plant (470 in total)
Training sessions
Spare parts management
Planning & reporting to top management
Updates on latest technology, processes, software, etc.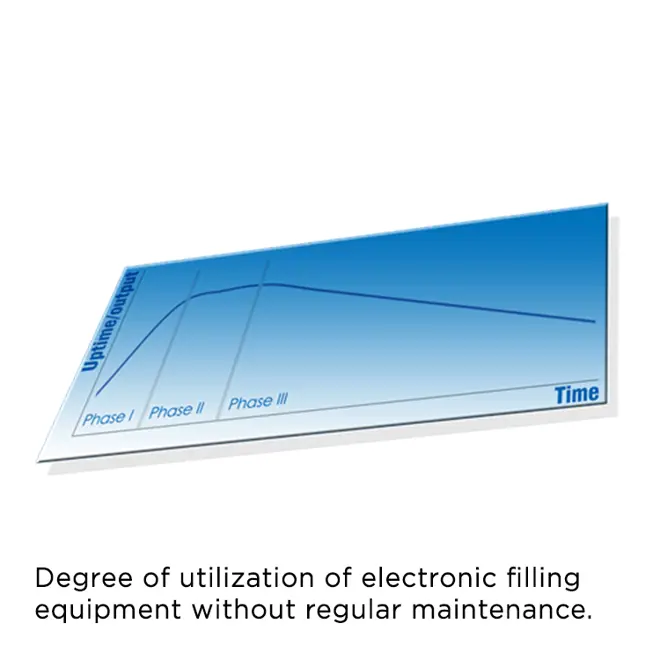 When HPCL entered an Annual Maintenance Contract (AMC) with Kosan Crisplant (today known as MAKEEN Energy) covering all its LPG cylinder filling plants in India, the positive effects were so evident that the rest of the country's major energy companies would soon follow suit.
Prior to the implementation of AMCs covering all the cylinder filling plants of the major players on the Indian market, the level of maintenance would vary immensely from plant to plant. Some would have a service agreement, others would use our services on a "break & fix" basis and others again would handle maintenance themselves.
Huge potential for optimization
However, as effective preventive maintenance is essential when it comes to the degree of utilization of electronic filling equipment, there was a huge potential for optimization of the production. And in a market with an annual growth rate around 8%, output is everything. The positive results achieved by HPCL because of the AMC have made the rest of the major players on the Indian LPG market follow suit so that the AMCs now cover five customers, 140 plants and 185 filling carrousels.
Higher uptime and protection of assets
By taking a preventive approach to maintenance, it has been possible to improve the uptime across all plants, simply by minimizing the amount of breakdowns and ensuring that the equipment is used optimally without ever being stretched to the limit. That latter is essential when it comes to extending the lifetime of the equipment.
Maintenance without production stops
Every service visit under the AMCs last two days. During the visit, our experts check the carrousel thoroughly and carry out the planned maintenance procedures. In order to minimize downtime due to service, the maintenance work is carried out on Sundays or public holidays. The following workday is used for monitoring the results of the work and carrying out whatever fine-tuning is needed.
Knowhow and experience
With 392,000 man-hours combined on the filling hall floor, the experience and knowhow of our India's team of service professionals are important reasons for the success of the AMCs. To further increase the consistency of their work across all plants, they rely not only on this vast experience, but also on a well-established framework for maintenance, developed by KC India (Today KC, Kosan Crisplant, is known as MAKEEN Energy). Training sessions for all staff levels ensure that the customers' organizations benefit from our experience in more than one way.
See more cases from MAKEEN Energy
Vulcano Gas in Italy entered the LPG cylinder filling business with the backup of an experienced business partner with a strong local network.

When Repsol in Peru needed a third filling line at their Ventanilla plant, it required extensive cross-border collaboration with MAKEEN Energy as coordinator.

Perfectly new to filling LPG cylinders, Ghia Gaz in Algeria wanted a partner strong on equipment, services and project management.
Want to know more about our gas solutions?