CASE: Laugfs Gas, Sri Lanka
High demand in reliability and proximity to customers
Customer
Laugfs Gas, Sri Lanka
The customer's challenge
Laugfs Gas was on the look-out for a solution to the lack of reliability in the filling of cylinders and for the shortcomings of the after-sales service they had experienced with a previous Asian supplier.
Our solution
We supplied a new carrousel made in France to meet the customer's need for precise and reliable filling equipment. In addition, Siraga provides after-sales service and day to day local support.
The outcome
The outcome is a happy customer who, convinced by the European quality equipment, now fills accurately and with reliable machinery.
Scope of supply
Complete - Made in France - filling line with a 24 post carrousel able to fill two types of cylinders: the original size in Sri Lanka 12,5 kg and the new cylinder size of 5 kg.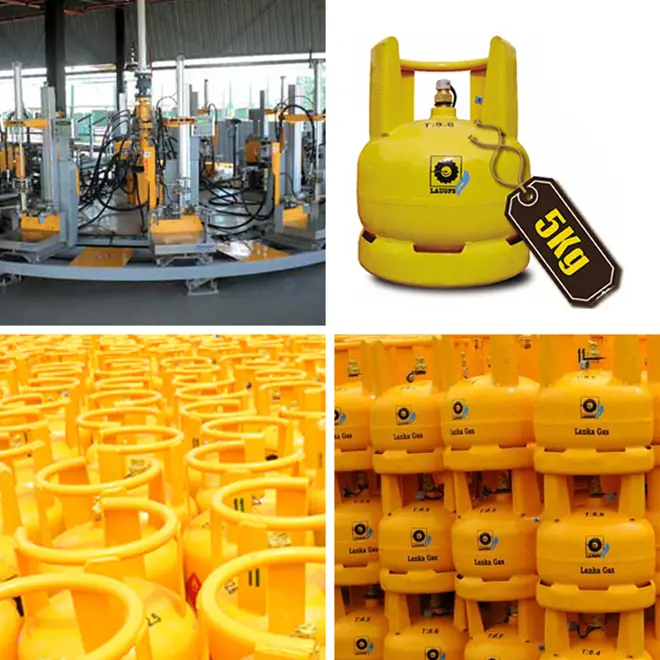 Good quality and local assistance never go out of style and will always be in high demand with customers. Laugfs Gas in Sri Lanka learned that lesson the hard way after having bought low-quality filling equipment from a local Asian player thus sending them on a quest to find a reliable partner.
The fast-developing local gas cylinder market in Sri Lanka is entering a phase of renewing its infrastructure to increase reliability and precision. Siraga was happy to be a part of that transition and to regain a foothold in the country in 2013.
Supplying Laugfs Gas - the second largest player in the domestic gas cylinder market - with a brand new 24-post carrousel offered Siraga (today known as MAKEEN Energy) the possibility to prove that the European quality is in a completely different league than that of their former Asian supplier. At the beginning, the carrousel was only equipped with 12 scales, but as demand increased, little by little, we added filling machines to complete the carrousel. Now the carrousel is at its full capacity.
Two requirements: reliability and proximity
What Laugfs Gas had been missing, Siraga was able to provide. The customer was on the look-out for a solution to the lack of precision and reliability in the filling of cylinders and for the shortcomings of the after-sales service. Siraga, who is known for its filling reliability, proximity to their customers, their efficient maintenance and after-sales service on electronic machines, won over this important market player by delivering just what Laughs Gas longed for.
More than just a supplier
Laugfs Gas experienced severe floodings in both 2016 and 2017. As soon as Siraga heard the devastating news, Siraga India staff was deployed to support the customer and help him restart the production as quickly as possible limiting the customer's precious downtime.
Highly satisfied with the Siraga performance and service and in order to meet demand in South and East of Sri Lanka, in July 2017, Laugfs Gas commissioned Siraga to supply another project consisting of two complete filling lines in Hambanthota.
Testimonial from Laugfs Gas
What motivated you to work with Siraga?
We insisted on having products of European quality, made in Europe and Siraga meets this requirement. In addition, we already have products that are "Made in France" and they are nothing like the low-quality products manufactured in Asia. And the quality does not only pertain to the products: we also appreciate the quality of Siraga's after-sales service and local assistance day in and day out.
See more cases from MAKEEN Energy
The requirement was simple: The future LPG facility, located in the middle of the desert, should be the world's most advanced.

That was what we told Elgas in Australia when COVID-19 broke out and disrupted the process of replacing their old filling equipment.

A new hammering machine developed by MAKEEN Energy has made liquefied petroleum gas (LPG) filling in Malaysia a little easier.
Want to know more about our gas solutions?