Case: Kuwait Oil Tanker Company, Kuwait
A one-of-a-kind
LPG filling plant
Customer
KOTC (Kuwait Oil Tanker Company), Kuwait
The customer's challenge
Kuwait Oil Tanker Company (KOTC) wanted the world's most advanced, high-capacity filling facility to relieve the pressure on the facility at Mina Abdullah.
Our solution
Our solution was to provide high-capacity and high-speed filling equipment, state-of-the-art maintenance equipment and custom-built machines to fit the customer's needs.
The outcome
The world's most modern installation of its kind with a capacity second to none.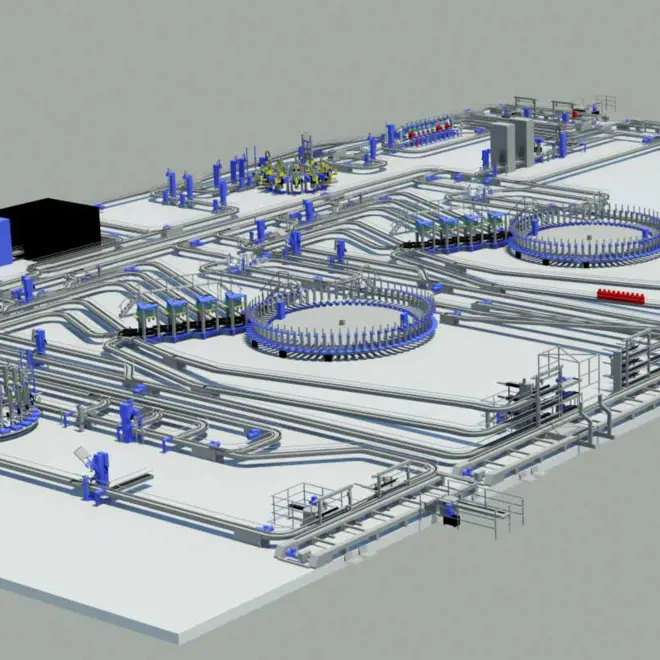 Scope of supply
• 2 x 72 stand FLEXSPEED filling lines
• 1 x 45 stand filling carrousel
• 6 x pallet plants
• Cap machine
• Cap shrinking machine
• Leak detection
• Weight adjustment
• Check weighing
Maintenance area:
Pad printing, tare weight marking, painting, washing, valve changing, shroud and foot ring straightening, valve screwing and greasing, testing date marking, thread cleaning, pressure testing, check weighing, valve seal detection.
Size does matter
It all began when KOTC (Kuwait Oil Tanker Company) decided to build 'The Plant of the Future' - the most modern installation of its kind - to relieve the pressure on the facility at Mina Abdullah that had reached its limits for extensions. KOTC's requirement was simple: The future liquefied petroleum gas (LPG) facility, which was to be located in the middle of the desert, at Umm Al Aish, north of Kuwait City, was to be the world's most advanced.
Using a FLEXSPEED solution, they designed a facility with greater capacity on a smaller site than would have been possible with a traditional solution. But don't be fooled, the site is huge and every aspect has been covered: State-of-the-art equipment, complete video monitoring of the entire site, night vision cameras, anti-intruder fences – the entire plant is the first in the world that is completely automated using as few operators as possible.
A demonstration of force in filling and maintenance equipment
MAKEEN Energy's share of the total project comprises two complete filling and maintenance halls – including electrical installation and pipe laying – for 12 and 25 kg LPG cylinders. Our project team demonstrated that one double FLEXSPEED line would yield a much higher capacity than a traditional solution using 3 carrousels. Hence, the large hall has two fully automatic FLEXSPEED filling lines for 12 kg cylinders. On each filling line, there is a 3 storey pallet plant, a FLEXSPEED carrousel with 72 filling posts and equipment for capping, cap shrinking, leak detection, weight adjustment, and check weighing. In addition, there is a filling line for 25 kg cylinders with a pallet system, a filling carrousel with 45 filling machines, and equipment for sleeve shrinking, leak detection, weight adjustment, and check weighing. On all 3 filling lines there is equipment for detection of defective shrouds and valve seals.
Each FLEXSPEED filling line has a capacity of 3,600 domestic cylinders per hour. That is a whopping 7,200 cylinders per hour! In addition, the filling line for 25 kg industrial cylinders has a capacity of 1,400 cylinders per hour. The large maintenance area for both 12 and 25 kg cylinders includes state-of-the-art equipment for pad printing, tare weight marking, painting, washing, valve changing, shroud straightening, foot ring straightening, valve screwing, valve greasing, testing date marking, thread cleaning, pressure testing, check weighing, valve seal detection, and palletisation. No expense was spared!
In keeping with the huge amount of equipment installed, there are an astonishing 276 HMI controllers on site at KOTC - one mini computer on each piece of equipment manufactured by MAKEEN Energy. With them, it is possible to monitor and configure networks from afar, update the software and monitor any events, changes or errors in the system saving countless man-hours on a site as big as KOTC and increasing uptime. The Kuwaiti plant is the largest single project in MAKEEN Energy's history - but the advantages of the controller system aren't gained just because of the size of the site. On the contrary - everyone benefits from the functions of the controllers. But because the controlling equipment is scalable, it is flexible enough to fit a site as big as the one in Kuwait.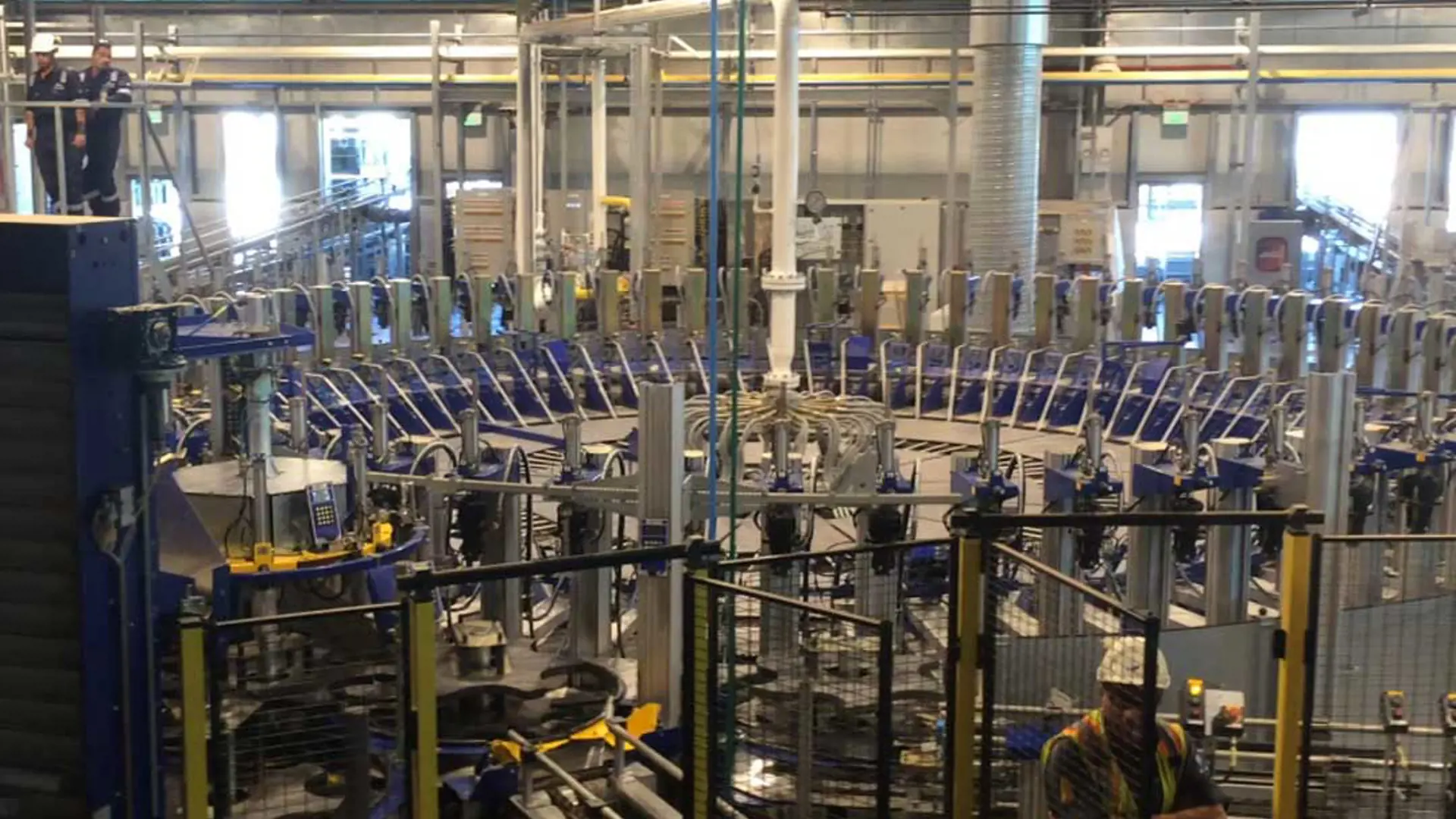 Private Centre
In the other hall, called the 'Private Centre', there is traditional filling equipment for 1-2-3-5-12-20-25 kg cylinders. In Kuwait, there are a number of companies such as market gardens and supermarkets that own their own cylinders, so KOTC needs to be able to handle customised cylinders in relatively small quantities quickly and effectively. Customers usually arrive at the Private Centre with around 20 LPG cylinders, of which perhaps 10 have centre valves and 10 have screw valves. What is special about the Private Centre is that each customer almost always has to leave with the same mix of cylinders they came with. This is possible only because the cylinders are automatically delivered to a collection bay where they are sorted into the various categories. When the truck is empty, the driver or an operator orders matching cylinders. The service time from delivery of 20 empty cylinders to loading 20 filled cylinders is estimated to be around half an hour.
Custom-made equipment
The KOTC filling plant encompasses the latest technology and the finest equipment on the market today thanks to custom-built machines and equipment for the Kuwaiti plant. For instance, the outlet module is an efficient, innovative system that combines leak testing, inspection of the weld seam, cap application and cap shrinking in four swift, successive operations keeping speed a paramount factor. The combination of the four modules is unique to KOTC and the weld seam inspection machine is custom-built exclusively for KOTC. Also, a cap detection machine that checks the application of caps on the cylinders is another KOTC invention.
More is more
To illustrate the size of the complete KOTC facility, the site contains, besides the two filling facilities and maintenance areas, administrative buildings, a mosque, roofed parking area, a roofed storage tank yard and workshops. Furthermore, the gas is delivered directly from a refinery by tank trucks demanding extraordinarily large spaces for unloading the LPG.
Besides being one of the largest facilities in the world, the KOTC plant is a high capacity facility designed to function optimally in one of the hottest countries in the world, in the middle of the desert, where sandstorms are common - a fact that required skilled training of personnel, professional service and maintenance with which KC has great experience.
See more cases from MAKEEN Energy
Production fell short in peak periods, but SNDP did not have enough room to expand its filling capacity. Our engineers solved their problem.

Our European quality meets the requirements of safety and reliability for millions of LPG users in remote Nepal. A country notoriously difficult to reach and battling fraud within the LPG industry. A turnaround was needed in filling domestic gas cylinders.

Higher capacity and reduced operational costs. That's what Indian filling company HPCL got out of upgrading to FLEXSPEED technology.
Want to know more about our gas solutions?