Logistics, storage and turnkey
From the smallest containers to some of the world's biggest LPG filling centrals, MAKEEN Energy can assist you with the delivery of the best and most competitive solution.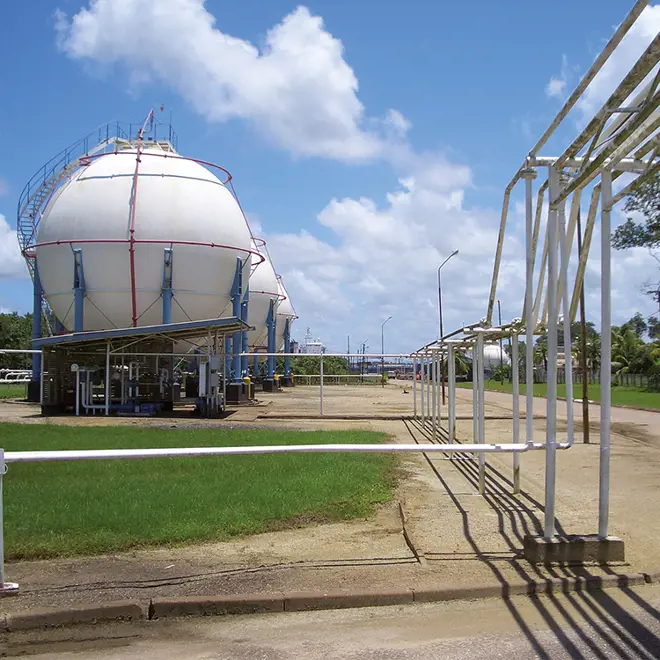 Our broad and deep experience stretches across engineering, production and procurement to construction, initialisation, on-site services and operation.
MAKEEN Energy's competences cover the following areas:
Engineering, Procurement & Construction (EPC)
Turnkey installations for filling, handling and maintenance of LPG cylinders
Analyses and design of logistics at industrial gas plants
Storage solutions for LPG, incl. protection of storage tanks against impacts from the outside  
Turnkey solutions
With a department dedicated to EPC/large-scale projects, Kosan Crisplant has the ability to tailor-make complex LPG-related solutions of any kind, thereby helping our customers reach their goals.
Everything is handled by MAKEEN Energy
Leaving your large-scale projects in our hands means making them completely hassle-free for you. As we handles all aspects of an EPC/large-scale project, including civil works, you will be able to focus entirely on your daily business while your new LPG filling plant or storage facility is underway.
We are the LPG specialist
As opposed to other contractors and large engineering companies who might make shopping malls one day and an office building the next, MAKEEN Energy is an LPG specialist with years of experience to draw on. The fact that we are experts on the needs of the LPG industry ensures that you as a customer get exactly what you need.
Our EPC competencies include:
Project management
Site management
Civil engineering
Risk management
Surveys and analyses
International norms and standards
Engineering Procurement Construction
This brochure presents real-life examples of some of the LPG projects and solutions we have helped our customers with. It contains a number of detailed case stories from all around the world.
Want to know more about our gas solutions?