The fully automatic electronically controlled and hydraulically driven carousel inlet mill RIM is designed to transfer LPG cylinders from a chain conveyor to a filling carousel. The RIM is installed in a chain conveyor that runs radially in relation to the carousel.
The RIM is easily adaptable for left or right orientation, so it can be used on carousels rotating clockwise or counterclockwise.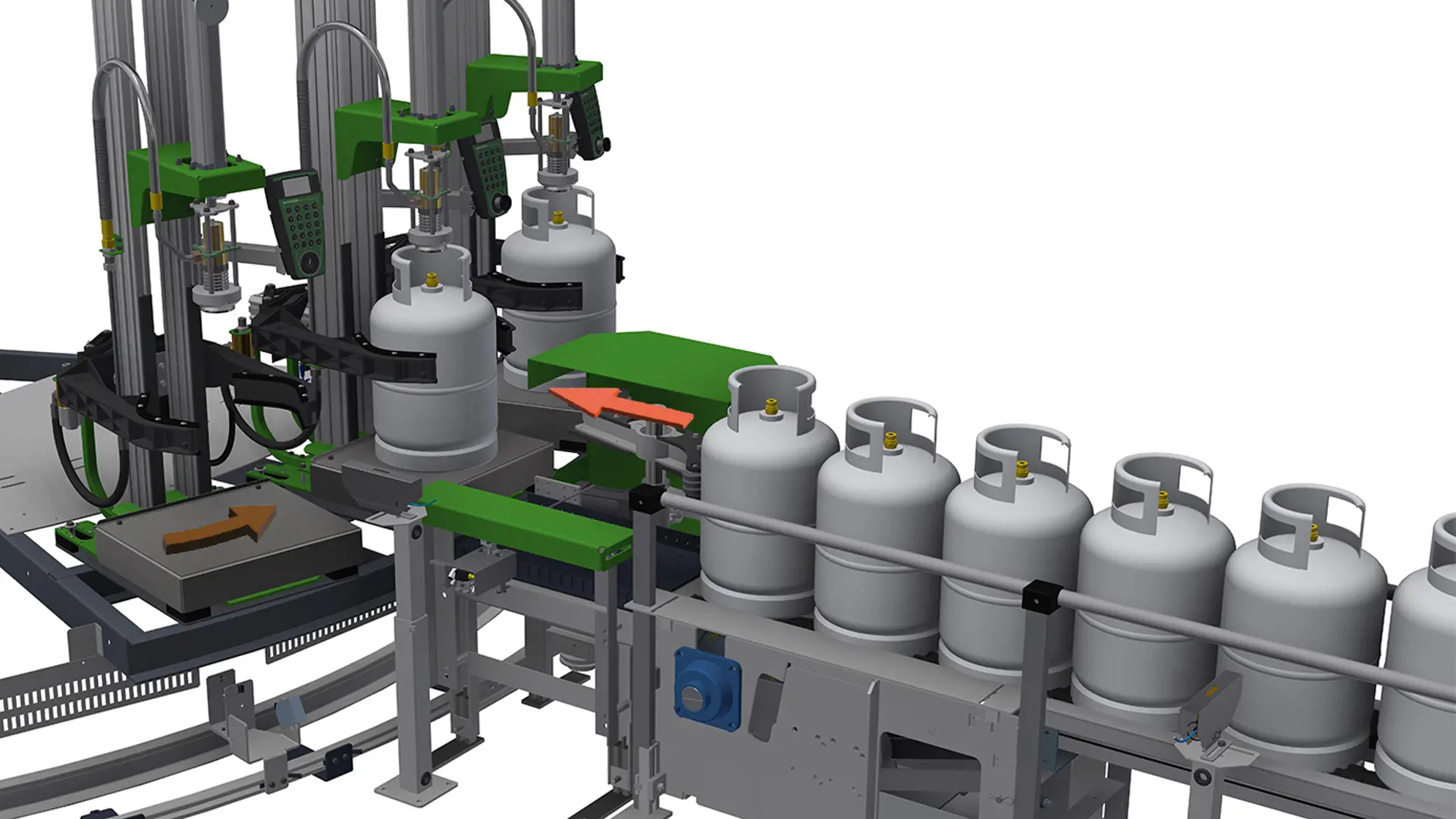 Benefits
Maximum safety level
Increased cylinder life due to elimination of typical cylinder handling damages
An anti-jamming control ensures that the inlet will not activate (to introduce a cylinder) unless a cylinder is available at the inlet, and the filling machine is ready (e.g. no cylinder on the platform, filling head is up) and positioned in front of the inlet
Maximum production uptime
Automatic predictive and preventive maintenance alerts with MAKEEN Energy's Industry 4.0 Digital Solution to avoid breakdowns (optional)
Automatic operation stops (e.g. low compressed air pressure) prevent process errors and assist in quick restarting
Optimised production
Remote supervision with MAKEEN Energy's industry 4.0 Digital Solution for production optimisation
Fully automatic transfer of all cylinders (eliminates human handling)
Adjustable cylinder introduction speeds to increase the capacity as required
MAKEEN Connect

This unit is compatible with MAKEEN Energy's Industry 4.0 Digital Solution, which enables data capturing of the process for remote supervision, performance optimisation, and predictive/preventive maintenance alerts through e.g. a MAKEEN Energy
cloud solution (optional).
More of our filling equipment
The fully automatic electronically controlled carousel outlet arm is designed to transfer LPG cylinders from a filling carousel to a chain conveyor.

The filling carousel is a rotating platform, with connection to a chain conveyor system, and equipped with filling machines to fill LPG cylinders.

The electronically controlled universal filling machine is an independent unit designed for filling LPG into cylinders safely.