President inaugurates Bolivia's new high-speed filling plant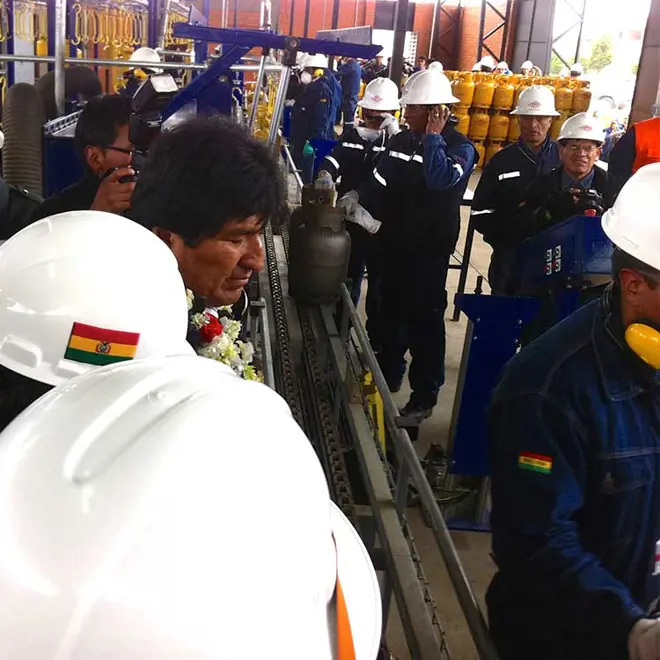 A significant increase in filling capacity will secure the future LPG supply for Bolivian capital La Paz. YPFB's new filling plant delivered by Kosan Crisplant (today known as MAKEEN Energy) was inaugurated by President Evo Morales on 22 March 2014.
The upgraded filling plant replaces a 30 year old LPG filling plant and includes a high-speed Flexspeed line for filling cylinders with screw valves. The upgrade will increase plant productivity by around 50%. YPFB's Senkata filling plant in El Alto covers more than a third of the LPG consumption in Bolivia and is crucial to the supply of LPG to the La Paz region.
LPG cylinder reconditioning
The President also inaugurated a brand new cylinder reconditioning plant delivered by Kosan Crisplant (today known as MAKEEN Energy). The investment in cylinder reconditioning is expected to increase the life of the gas cylinders by ten years and improve consumer safety.
Part of a large project
The upgrade of the Senkata plant is part of a large project that involves new filling systems for two other plants. We are in charge of those upgrades as well.
Explore these related topics
MAKEEN Energy Sri Lanka has successfully dispatched it's 50th UFM to MAKEEN Energy Indonesia

Read more About Celebration at MAKEEN Energy Manufacturing Centre in Sri Lanka

The market for liquefied petroleum gas (LPG) in Bangladesh is taking off, with new actors coming on the stage and fresh orders for both cylinder filling plants and cylinder manufacturing plants

With the incredible growth in the Bangladeshi LPG market, MAKEEN Energy has signed a contract with City LPG for a cylinder manufacturing plant.