Scalable solutions to aid Bangladesh's LPG transition
Customer
Omera Petroleum Limited, Bangladesh.
The customer's challenge
Omera wanted four future-proof filling plants in four strategic locations in order to support the government's plan to make LPG more available throughout Bangladesh.
Our solution
We supplied four scalable filling plants with the flexibility to grow along with demand. The capacity of the plants ranges from 5,000 to 11,200 cylinders a day processing domestic as well as industrial cylinders keeping flexibility a paramount factor.
The outcome
The first Omera cylinders launched in the Bangladeshi market in 2014. Thanks to the four strategically located filling plants, Omera has a wide distribution network and is able to optimise the cylinder logistics.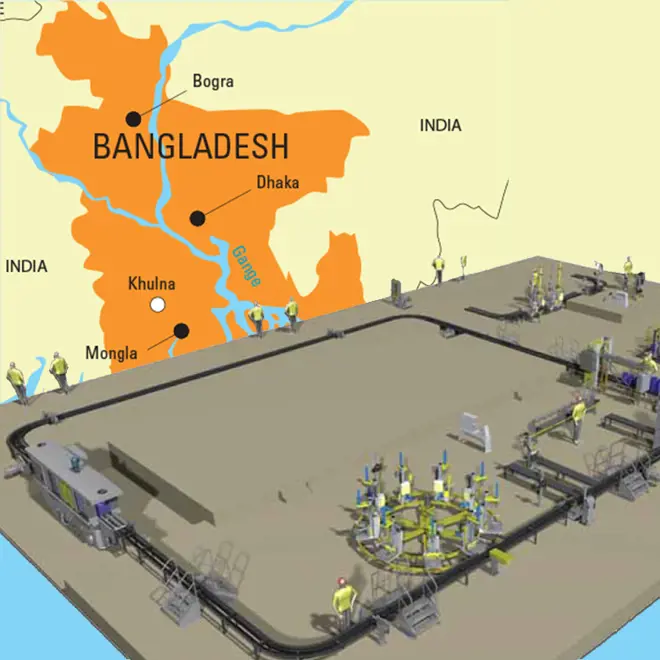 Intial scope of supply
4 filling plants across the country (1 main plant and 3 satellite plants)
Three 18 post carrousels with 9 scales
One 24 post carrousel with 15 scales
2 storage spheres of 4,300 m3 in Mongla
2 LPG tanks of 100 m3 in Chittagong
2 LPG tanks of 100 m3 in Bogra
6 LPG tanks of 127 m3 in Dhaka
Additional equipment (2014-2017)
Conversion of the three 18 post carrousels to 24 post carrousels
Conversion of the 24 post carrousel to a 36 post carrousel
Conversion of stationary machines for industrial cylinders to a 18 post carrousel
Annual Maintenance Contract
To support the Bangladeshi transition from consuming primarily natural gas to consuming bottled LPG, Omera Petroleum Ltd commisioned Siraga (today known as MAKEEN Energy) to supply four future-proof filling plants in four strategic locations in Bangladesh to improve distribution of the greener, safer and more efficient fuel around the country.
In 2013, Omera Petroleum Limited - a major player in the rapidly growing Bangladeshi LPG market - teamed up with both Siraga and the international EPC company Parlym (which manages LPG receiving facilities), to put four LPG filling lines into operation in order to help the government reach its goal of transitioning 156 million Bangladeshis to rely on LPG for energy. Siraga's presence in Bangladesh since the mid-70s as well as its technical and commercial know-how of LPG equipment and the LPG market qualified the French manufacturer of expert LPG equipment to get involved in this large-scale project.
A market favoured by government measures
As Bangladesh is seeking to expand its energy provision to private customers, the Omera project aimed at promoting the use of highly secure individual gas cylinders to replace the still dominant use of town gas distribution to homes. The increasingly scarce natural gas has thus far dominated the market, and hence the government implemented a set of assistance mechanisms to promote bottled gas. The system offers the Bangladeshi people energy that is more economical (than, for example, oil), less harmful to the natural and urban environment and more secure than the urban gas distribution network, whose domestic supply pipes are becoming obsolete. This project was therefore a part of a greater plan to modify consumer behaviour (adopting the use of returnable gas cylinders), with the goal of ensuring more effective management of energy resources. The first Omera Petroleum Limited cylinders appeared in Bangladeshi homes in early 2014.
Scalable and flexible solutions fit for the future
Back in 2013, Siraga initially installed three 18 post carrousels with 9 filling machines in Dhaka, Chittagong and Bogra and one 24 post carrousel with 15 filling machines in Mongla. The major advantage of these lines was that they were scalable and adaptable and the four plants' production capacity could easily be increased to suit a growing demand and local requirements over time. At the time of commissioning, each filling plant provided a capacity of 5,000 to 11,200 cylinders a day enabling Omera to meet a high demand for gas cylinders covering private (5,5 kg and 12,5 kg cylinders) as well as industrial customers (35 kg).
Regular service and upgrades keep all four plants performing optimally
In 2016, Omera signed an Annual Maintenance Contract (AMC) with Siraga India to ensure the filling equipment keeps performing optimally. Technicians from Siraga India will make regular service visits to the four filling plants in order to perform preventive maintenance, repairs and provide training for new staff members.
In the years 2014-2017, Omera regularly purchased additional filling machines to meet the increasing demand in Bangladesh. And in 2017, Omera commissioned Siraga to increase its capacity by 25% on all four plants.
See more cases from MAKEEN Energy
When disaster struck, Siraga's quick solution helped the Dutch filler Voets get back on its feet.

In 2019, Galp entrusted the responsibility for maintenance of the facility to our team when they signed a maintenance contract with MAKEEN Energy, and it continues to be a model partnership – despite challenges along the way.

Good quality and local assistance never go out of style and will always be in high demand with customers. Laugfs Gas in Sri Lanka learned that lesson the hard way after having bought low-quality filling equipment from a local Asian player thus sending them on a quest to find a reliable partner.
Want to know more about our gas solutions?