Careful planning makes the difference in Portugal
Early in 2022, our team maintaining Galps facility in northern Portugal received a special award for outstanding performance in ensuring the safety and organisation of the plant in the previous year. It was a proud moment that showed how long we have come in a journey that began in 2019 and continues to be a model partnership – despite challenges along the way.
Overlooking the Atlantic Ocean from the Porto-adjacent city of Matosinhos, Galp's logistics park is an important piece of infrastructure for the Portuguese energy supply. Originally a hydroskimming refinery, Galp decided in late 2020 to close the refinery and convert the facilities into a logistics park that today handles and distributes product coming from the nearby ship terminal. Aside from its many storage tanks, and trucks going to and from the facility each day, the logistics park also has a direct pipeline connection to the Porto airport.
Maintaining a facility of this size is a constant job, requiring a wide array of competences and careful planning. Galp found both of those qualities in MAKEEN Energy.  
In 2019, Galp entrusted the responsibility for maintenance of the facility to our team when they signed a maintenance contract with MAKEEN Energy. In the beginning, it was only a contract for maintenance of mechanical and metallic parts. Today, we have approx. 100 people working on keeping the equipment healthy and making sure the facility can deliver what Galp's customers need, on time. The staff currently includes everything from contract manager, safety technicians, qualified welders and electricians to HVAC technicians and scaffolding mounting specialists. With the exception of installations and crane operation, which are done by subcontractors, our MAKEEN Energy team takes care of all the daily and planning and execution of maintenance tasks.
Bringing things in order
Our team's initial focus after taking the reins was to organise, organise, organise. They found that many of the plant's challenges in the past had come from a lack of preparation, planning, and communication. When MAKEEN Energy took over, statistics showed that, on average, only about 30% of the planned tasks for a given week ended up being accomplished. Clearly, a change was needed.
The approach our team took was to implement the principles of Continuous Improvement that we have also used to great effect in other customers' facilities previously. All tasks are visualised on a board, allocating the necessary time for planning, preparation, and execution. Daily alignment meetings became the standard, taking 10 minutes at the beginning of each day to discuss the work ahead. And our team promoted a culture of improvement where problems are something to solve together – not a reason to place blame or judgment. This meant that potential issues were brought to light, instead of hidden away.
The plan comes together
Along with better organisation of storage spaces, leadership training, clear targets and KPI's, process improvement, and a focus on communication, these actions succeeded in creating an environment where everyone knows what to do, when to do it, how to do it safely and efficiently, and has a clear understanding of their role and responsibility.
And the 30% statistic we mentioned before? Within a year, our team raised that figure to 80%. Despite the difficulties brought about by the closing of the refinery and the facility's conversion to a pure logistics park, our team has continued to impress with their ability to ensure efficiency and safety. That was why, in the beginning of 2022, the team was presented by Galp with the Leadership in Safety award – a recognition of their excellent results for the preceding year. We hope to continue this partnership with Galp for many years to come!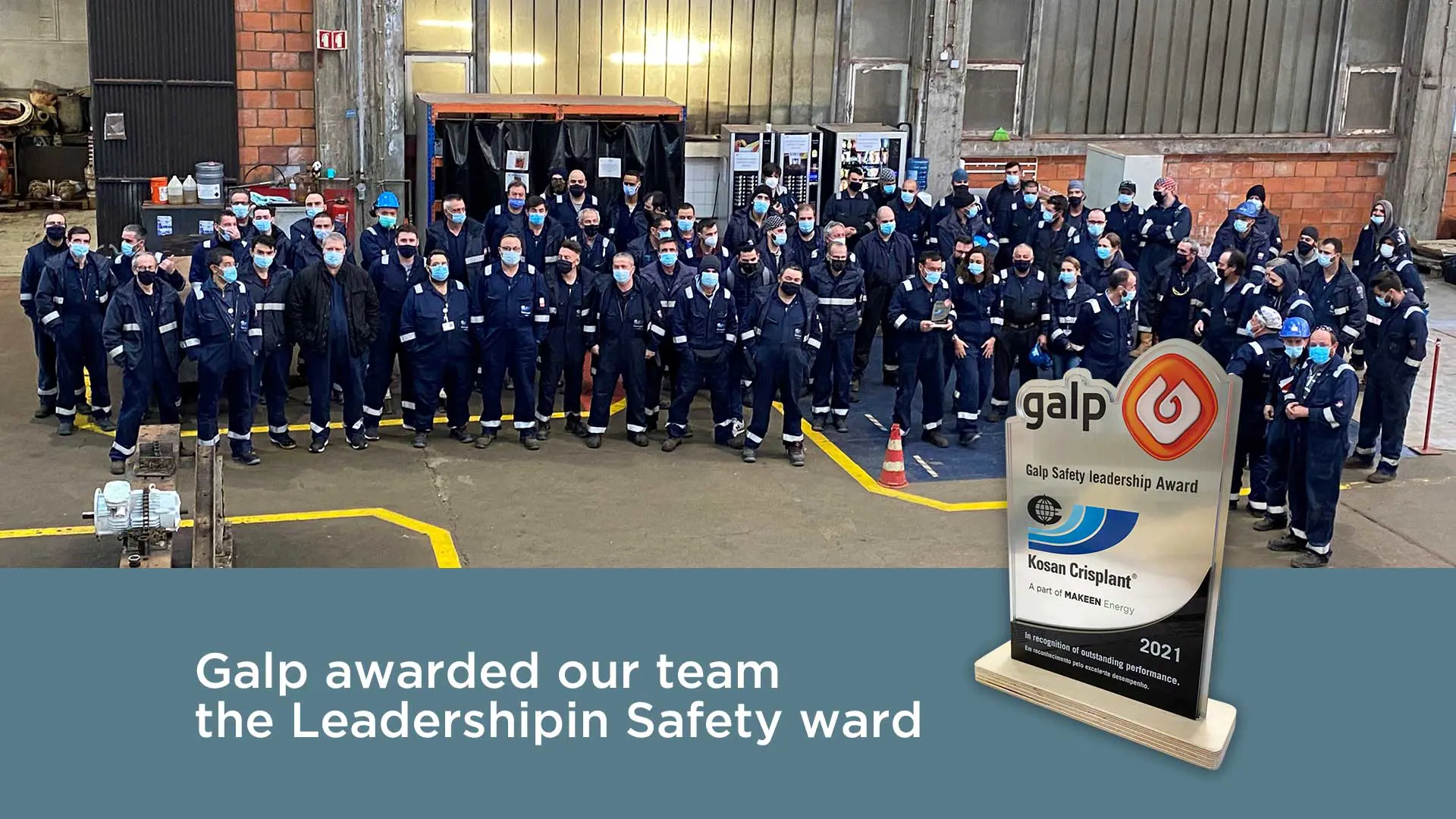 These pages may also interest you
We know the equipment better than anyone. With a Facility Management contract, we take care of everything that is secondary to your business, but primary to ours.

Read more About Facility Management

When your equipment inevitably needs special attention due to wear and tear, we are there for you with all the spare parts and service that keep your facilities healthy.

Read more About Service and spare parts

At MAKEEN energy we are determined to play an active role in the sustainable transformation of the energy market. Therefore we are objective to develop responsible energy solutions that make a difference for people and planet.

Read more About Our energy approach