Case: Jordan Petroleum Refinery Company, Jordan
A Jordanian
FLEXSPEED success
The customer's challenge
The daily production capacity didn't meet the demand on filled LPG cylinders. Workers had to do overtime to keep up with demand.
Our solution
Installing our state-of-the-art FLEXSPEED carrousel system in just four months.
The outcome
A happy customer is now able to meet the demand on filled LPG cylinders. Our solution has futureproofed their business.
Upgrading to a FLEXSPEED system can be a big decision.
But it can also bring big changes to an LPG filling operation. Jordan Petroleum Refinery Company (JPRC) knows first-hand. Workers at the plant in Amman used to continuously be very busy and had trouble meeting the demand for filled LPG cylinders, but now, after upgrading the filling solution to a FLEXSPEED system, some workdays finish at noon.
Talks between MAKEEN Energy and Jordan Petroleum Refinery Company (JPRC) had been going on for years. With JPRC already a customer and the demand for LPG cylinders in Jordan surging, the need to upgrade the LPG filling solutions in some way was approaching. In 2017 and 2018 momentum was building, as Jopetrol's CEO gained interest in the benefits of a FLEXSPEED system.
MAKEEN Energy regularly provides access and facilitates the opportunity for potential customers to visit plants and solutions around the world that are like the ones considered. Therefore it was decided to send the DM/Purchasing Manager at JPRC on an orientation trip to Middle and South America, in order to see first-hand how our FLEXSPEED system works and delivers. After returning, the Purchasing Manager delivered a report to the CEO of JPRC, which drove the interest for our FLEXSPEED system to a new high.
Once the contract is signed, we move fast
In 2017, Mr. Claus Jensen and Mr. Jens Sørensen from MAKEEN Energy went to Jordan to present a layout of a potential new filling plant, and after making necessary adjustments to the layout, the financial aspects were agreed upon with the C.E/Engineering & Inspection Group at JPRC, who had been part of the negotiations from the beginning. In the end, all parties were able to sign a contract, and, subsequently, as is always the case with our turnkey solutions, MAKEEN Energy had to deliver a timeline for the completion of the project.
After the timeline was accepted and agreed upon, the project started. Part of the project phase were local Jordanian employees of MAKEEN Energy based in Jordan, who were able to ensure a very smooth and fast execution of the project. In fact only four months passed from starting the installation until the facility was ready to be handed over.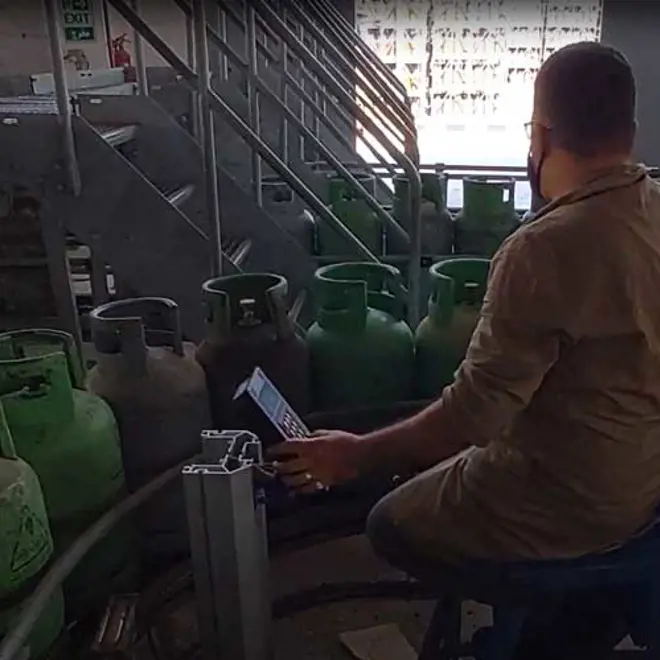 Scope of supply
• 66 position FLEXSPEED carousel
• Filling Scales
• Vision System
• Inline Leak Detectors
• Evacuation for Cylinders
• SMS Sealing Machines,
• Chain Tracks
• Telescopes
• Pumps (0398_9)
A big potential for further growth
Today, after the handover and with the new filling system in place, the FLEXSPEED system in Amman has completely changed the workflow. From chronically being behind schedule, workers at the facility – and the DM/Gas Activities at JPRC - can now easily meet all orders on time, and there is even a big potential for a further growth of business. Further, and very importantly, by upgrading the system, there is now also time for planned maintenance – something that was hard to find before.
Planned maintenance is a very important and cost-effective way to ensure a long life and high performance of any LPG filling equipment by MAKEEN Energy– you can read more about our maintenance services here and our gas equipment here.
With the help of MAKEEN Energy, Jordan Petroleum Refinery Company has secured its position on the Jordanian market and prepared itself to stand strong in the future in an LPG cylinder market that is growing. A clear success story!
Want to know more about our gas solutions?