Helping customers grow and optimise their business
As our Customer Support division develops, we unlock the expertise and experience of our global team in our constant quest to help our customers achieve the best results. Our latest offer to customers, which we introduced in 2022, is what we call Operational Assessment. Already, we have produced concrete results and added a lot of value to our customers' businesses.
As a leading provider of liquefied petroleum gas (LPG) filling solutions, with many decades of experience in servicing and even managing customer plants, we introduced a new consultancy service to our customers in 2022: Operational Assessment. This service is designed to help customers improve the production, quality, safety, and maintenance efficiency of their operations – often LPG filling plants, but the service also extends to all solutions within our different business segments.
The Operational Assessment service is carried out by MAKEEN Energy's Operational Excellence team, which is made up of people from various regions who all have years of experience working with the principles of Kaizen and Continuous Improvement, as well as technical experts with deep knowledge of the technical aspects of equipment operation and maintenance. Our team evaluates the customer's operation in terms of its production, quality, safety, and maintenance efficiency, and provide recommendations for improvement.
Solutions based on expertise
One of the key benefits of the Operational Assessment service is that it allows customers to identify and address any issues in their operations, thereby improving their overall operational performance. Our team uses their knowledge of the latest industry best practices to provide practical solutions that can be easily implemented by the customer.
In addition to improving the above-mentioned parameters, the Operational Assessment service also helps customers to reduce costs and increase profitability. We work closely with the customer to identify areas where cost savings can be made and provide recommendations on how to achieve these savings. This also improves the lifetime of their equipment.
We are committed to helping our customers achieve their goals in both the short-term and long-term scope, and the Operational Assessment service is an important part of this commitment. By providing expert advice and practical solutions, we help customers to improve their operations and achieve greater success.
Overall, Operational Assessment service is a valuable addition to MAKEEN Energy's portfolio of services and can be a great benefit for customers looking to optimise their business and improve their bottom line.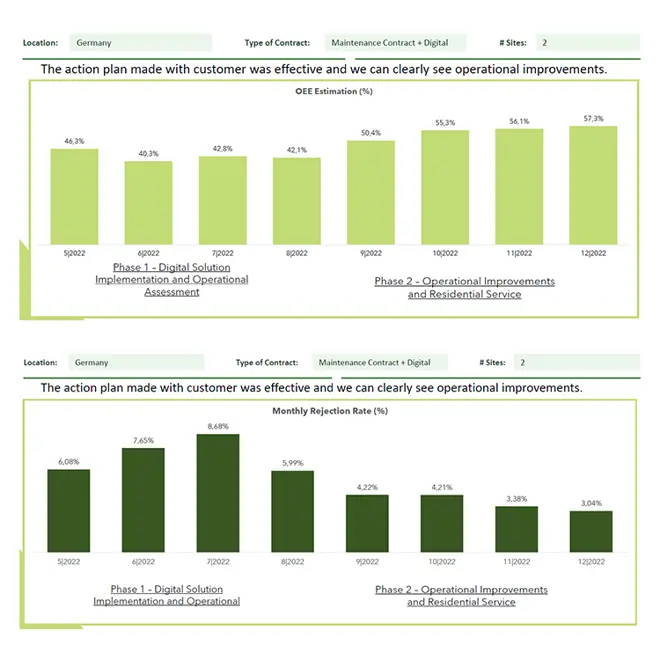 These graphs show the clear improvements in Westfalen's operational efficiency after MAKEEN Energy's assessment.
Other things you may like
No matter the day or the hour, our technical support provides expert advice and helps you with any issues that may arise - hardware or software-related.

Read more About Tecnical support

We know the equipment better than anyone. With a Facility Management contract, we take care of everything that is secondary to your business, but primary to ours.

Read more About Facility Management

At MAKEEN energy we are determined to play an active role in the sustainable transformation of the energy market. Therefore we are objective to develop responsible energy solutions that make a difference for people and planet.

Read more About Our energy approach