Industry 4.0
Digital Solution
Asset Performance Management System
The MAKEEN Industry 4.0 Digital Solution IDS is a comprehensive system solution to optimise your LPG cylinder filling or maintenance plant. It allows continuous performance and health monitoring of all connected assets.
The system is designed with the maximum information and data security features, which guarantee data management, retention and safe connectivity/access to your valuable data from anywhere on any device.
The system is capable of performing advanced data analytics to transfer the captured raw data into business intelligence and insights such as performance dashboards, benchmarking, OEE (Overall Equipment Efficiency), and more.
Based on insights, the system can trigger actions for predictive and preventive maintenance to avoid breakdowns.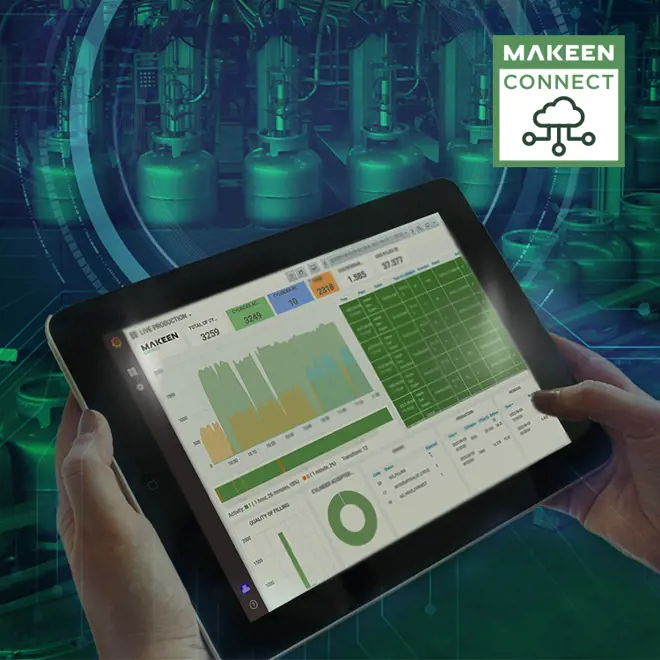 MAKEEN Connect
The unit is compatible with MAKEEN Energy's Industry 4.0 Digital Solution, which enables data capturing of the process for remote supervision, performance optimisation, and predictive/preventive maintenance alerts through e.g. a MAKEEN Energy cloud solution (optional).
Benefits
Maximum security against the increased risks associated with the cyber attacks and data breaches in compliance with the ISO 27001
Customers' valuable data are 100% secured in the MAKEEN Diagnostic Centre hosted cloud solution, and it provides guaranteed storage for data retention and backup
Real-time performance monitoring of the connected assets (e.g. OEE) assists in maximum capacity utilisation (e.g. quick corrective actions when the process begins to deviate)
Real-time remote supervision allows for optimisation of operations
Machine alerts to avoid breakdowns of the connected assets
Access business intelligence and insights as various dashboards/benchmarks from anywhere at any time assist decision making in a timely manner (e.g. changeovers of cylinder batches)
Business intelligence and insights (data-driven) help MAKEEN Energy to recommend spare parts timely, providing the best service kit according to the specific plant of the customer
Customer support with interactive virtual objects and instructions (e.g. Augmented Reality AR) for troubleshooting any faults safely and quickly
More of our LPG solutions
MAKEEN Energy's universal controller is an intrinsically safe, programmable logic controller and a human-machine interface.

The filling carousel is a rotating platform, with connection to a chain conveyor system, and equipped with filling machines to fill LPG cylinders.

The conveyor chain, type MCC-30, is a specially designed chain to transport LPG cylinders on chain conveyor systems.