MAKEEN Energy's universal controller MUC is an intrinsically safe, programmable logic controller and a human-machine interface (HMI).
It is the standard automatic control and supervision unit for all MAKEEN systems and equipment in LPG cylinder filling plants.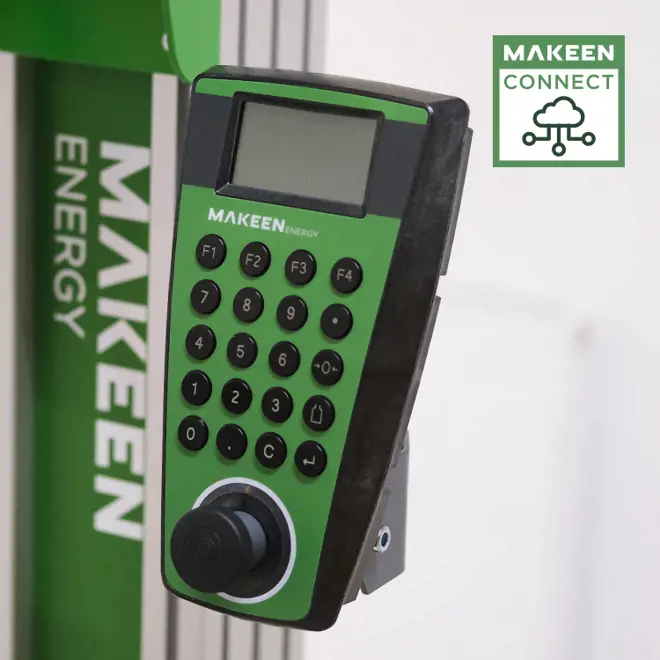 MAKEEN Connect
The unit is compatible with MAKEEN Energy's Industry 4.0 Digital Solution, which enables data capturing of the process for remote supervision, performance optimisation, and predictive/preventive maintenance alerts through e.g. a MAKEEN Energy cloud solution (optional).
Benefits
Designed and approved with intrinsic safety protection techniques for use in hazardous
areas
IP65 rated enclosure and connectors making the MUC dust-tight and resistant to water jets
Industrial type power/data connectors for safe and reliable connections
Robust and easily replaceable keypad tested for more than 10 million individual key operations
Start/stop push button with robust inbuilt non-contact sensor specially designed for heavy industrial use and increased lifetime
Large 3.1" white backlit LCD display for optimal readability
Automatic online software updates to keep up with the latest developments
Remote supervision withMAKEEN Energy's Industry 4.0 Digital Solution for production optimisation
An ergonomic design to improve operator comfort and efficiency
More of our LPG solutions
Our Asset Performance Management System is a comprehensive system solution to optimise your LPG cylinder filling or maintenance plant. It allows continuous performance and health monitoring of all connected assets.

The filling carousel is a rotating platform, with connection to a chain conveyor system, and equipped with filling machines to fill LPG cylinders.

The conveyor chain, type MCC-30, is a specially designed chain to transport LPG cylinders on chain conveyor systems.