Ensuring continuous development
MAKEEN Energy's foundation is built upon tech-savvy and passionate employees who share their specialised knowledge, constantly making each other better. However, as a global organisation expanding across continents, ensuring seamless knowledge sharing and structured internal training became a challenge.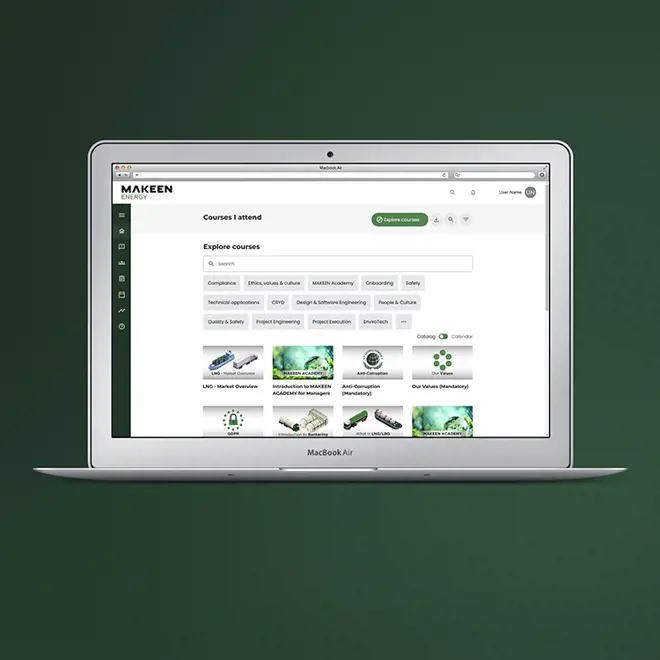 To address this, we shifted towards "blended learning", combining the best aspects of physical training, webinars and online learning featuring employees explaining products and expertise. Enhancing e-learning professionalism became central to our strategy, S24. We designed a platform, LMS (Learning Management System), to reflect MAKEEN Energy's branding and aesthetics and conducted targeted workshops for content development. Introducing, MAKEEN Academy:
Balancing design and content, we engaged brainstormed ideas for quizzes, texts, images, and exams. Our objective was to design a learning process that would captivate the LMS users. Our success relied on the expertise of our employees, who possess specialised knowledge that they share on the platform. The driving force behind it all was the pursuit of knowledge sharing, a keyword that embodied our overarching strategic goal.
The platform has been successfully launched, establishing a solid foundation for learning. Our focus now shifts to ensuring widespread adoption and articulating essential training components. Accessible via PC and our intranet, our learning modules are designed to be mobile-friendly and will soon have offline functionality.
Our journey continues with expansion and optimisation. Mandatory modules on GDPR, our 6 values, and anti-corruption are in place, while content on products, solutions, ethics, matrix, and business areas continuously expands. Certain modules will become obligatory, streamlining the onboarding process.
The global onboarding efforts promote inclusivity and collaboration, allowing individuals to access modules regardless of their location. The launch of our new LMS promises transformative change, granting every employee equal access to learning opportunities. Employees can engage with training modules at their own pace, unlocking their potential.
You should also read
We know that our activities affect the areas where we do business, and we acknowledge our responsibility towards both people and planet. That is why we are fully committed to working for positive and sustainable change both within and outside our organisation.

Check out our commitments

As an international company with colleagues all around the world, we all work with aligned values and mindset.

Read more about our One Global Team

We believe we have some of the best employees, however, we also wish to help them flourish and provide them with growth opportunities.

Explore the growth journeys